Jun 1st, 2009 by admin | 1 Comment »
March 8, 2009
I wrote a first proposal:
"…The project in Delft is a perfect opportunity to try understand through my own life experience why this building is going to be demolished. I am interested in staying for a few days in the flat to experience the inconveniences of every day life in this place. I hope to find a certain beauty and poetry in things such as the lack of natural light, the inefficiency of the heating system, water availability or the unpractical characteristics of the architectural design. The same way I'd like to explore the inconveniences of the place in relation to the urban surroundings and try to understand the atmosphere of the place in relation to evidence of criminal activities or a boring isolated atmosphere. I'd like to study the accessibility to supermarkets, markets, bus routes, train stations, working centres, parks or social gathering places. Any other impracticality that hasn't been mentioned and that I might find during my stay will surely be taken into account."
"Since my project is concerned with finding beauty out of something that is about to be destroyed, I can say that I am seeking to make a nostalgic piece out of my findings. For this reason I think it would be interesting to look for the remaining "archaeological" evidence of how people before me lived in the place and (naturally) all the inconveniences that they might have had when living here…"
March 18, 2009
Before I got the keys to the flat I made a few photographs in which I explored the issues that I thought I was going to be dealing with in the project. Instead of focusing in the flat in Delft, I worked in relation to my house in Groningen.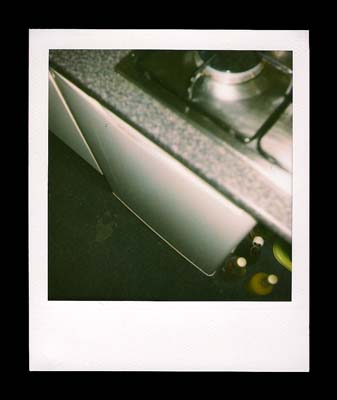 Before I came to live in this flat someone stained the carpet in the kitchen.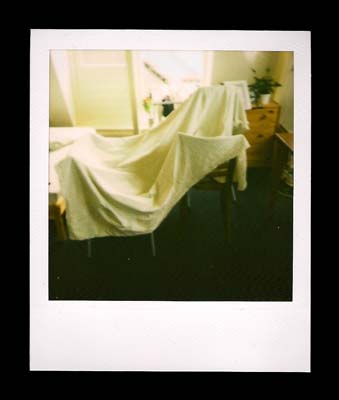 We have no washing machine, therefore we have to hang the clothes and sheets on chairs while they dry up.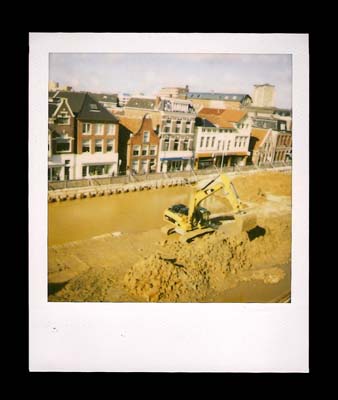 The inconvenience of having a construction in front of your house.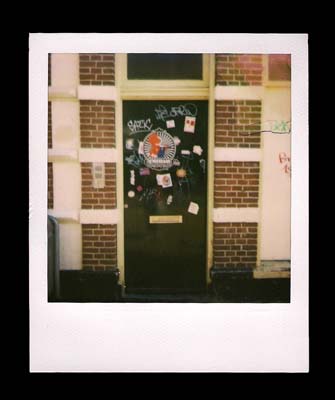 My "hood" in Groningen
April 22, 2009
As a result of the work done in preparation for the project, I decided to make a few changes to my original proposal.
"…I'm interested in using Polaroid photography. I believe that this photographic format is the most adequate to express a direct intimate relation between the photographer and the photographed object. The reason for this is probably based on the fact that Polaroid film does not need to be taken to a laboratory to be developed, to your home to be printed nor downloaded to your computer to be able to appreciate at its best. Polaroid film has a very personal and intimate relation implied in its format. Further on, since Polaroid cameras are very basic to use I can express very clearly the relation of the project to ordinary individuals and their encounters with every day beauty. On the other hand, as photography has moved into the territory of the digital area, Polaroid photography has switched from being a quotidian object into a luxury. The compulsive action of taking photographs (which was once possible through Polaroids) is now something which belongs to the handy pocket cameras and the ones included within mobile phones. Nowadays taking a Polaroid picture is a sort of ritual that serves me well when pointing out details, which I believe deserve to be noticed."
April 23, 2009
While discussing my project with my colleagues during the April session of Negotiating Equity, Raymond pointed out another interesting characteristic of Polaroid film which can be related to my project: Polaroid film is (or was) commonly used in crime scene investigations.
Since my project is concerned with finding the "evidence" of the people that lived in the flat before I did, I realized this connection seems quite appropriate.
May 9, 2009
I received an email from Rik. The email's subject is "good and bad news from delft". At the time it seemed only bad news for me.
good and bad news from delft?
From: Rik fernhout
Sent: Saturday, May 09, 2009 11:51:58 AM
"…The bad news is that …Woonbron, the housing corporation that owns the appartmentbuildings in Delft, has one again delayed their planning… The good news is that we do have two apartments that we can use: one in perfect condition, with gas, electra and water that can be lived in and used, and another one that is stripped: no water, no gas, no electricity, but still usable for projects."
June 2, 2009
I made more changes to my proposal. This time, I focused in how to accommodate the project to the new situation regarding the reduction of time, which I will be able to spend in the flat.
Taking into consideration my previous collaboration in a relay exhibition in Mexico City:
(http://www.juliopastor.com/interventions.html)
I decided to make something similar for this project:
"…Since I am going to be working in the same flat that my fellow students have also inhabited, this means I am going to concentrate in their life experience. In addition to this I am hoping that my work can be linked to their art projects by using whatever is left behind from their projects as equally important evidence."
June 4 to 17, 2009
MY STAY AT FLAT 603.
I decided to focus only on collecting evidence of the people who lived in here before I came to inhabit the space. Through watercolour paintings, Polaroids and printed digital photographs I created a map that serves as an investigation on the personality of these people, their way of life and how their lives could have been affected by the environment of the neighborhood.
I decided to use watercolours, which because of its high degree of transparency can become a means by which to record a life experience. Each layer that the painting has should work as a different source of information about the subject of the painting. The more layers of painting the work of art has therefore means more time was invested in its creation. When shown next to Polaroid and digital photographs it becomes apparent that a painting is recording a long period of time spent between myself and the subject.
All the work which was gathered during my stay was left in the flat, becoming this way the evidence of my own living experience in Delft.
THE INVESTIGATION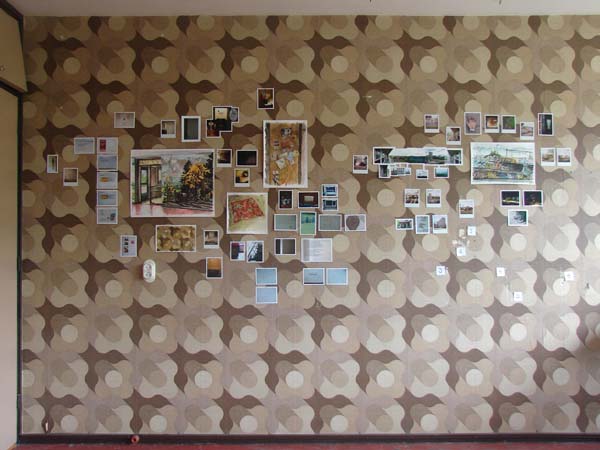 Investigation map
The previous inhabitants of flat 603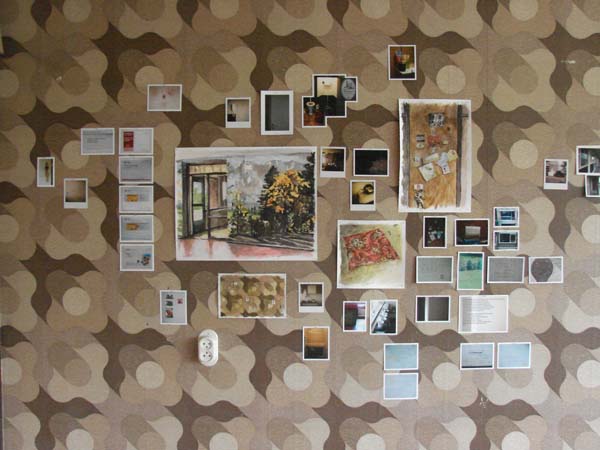 A. L. Westermann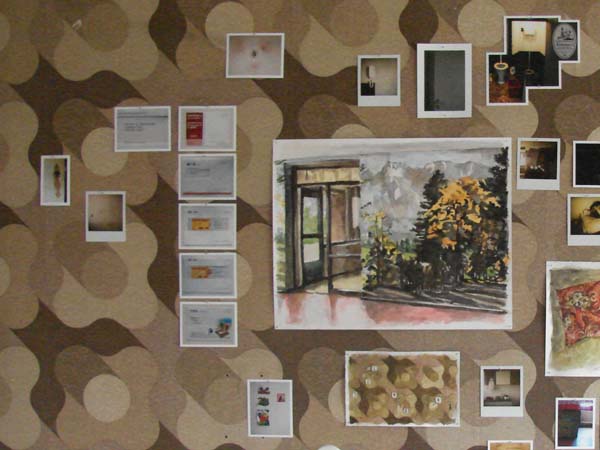 A. L. Westermann's correspondence and lamp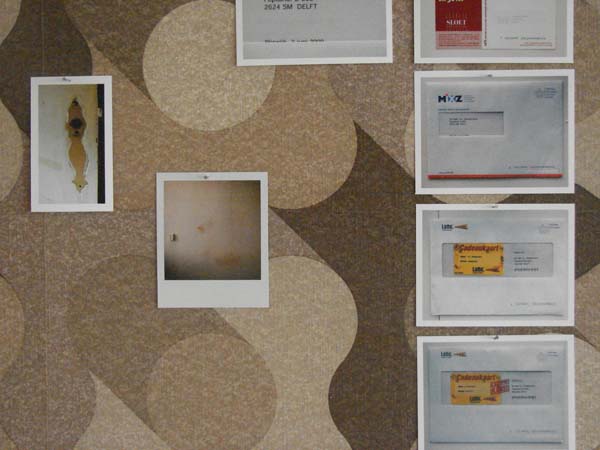 A. L. Westermann's correspondence, former door and wall
-Two letters from the lotto, one from a man's fashion store and one in regards to an insurance.
- Yellow stains on a wall. Source of the stains unknown.
- The door used to be painted beige before it's present white colour. A beautiful door knob was placed on it. Now it's gone.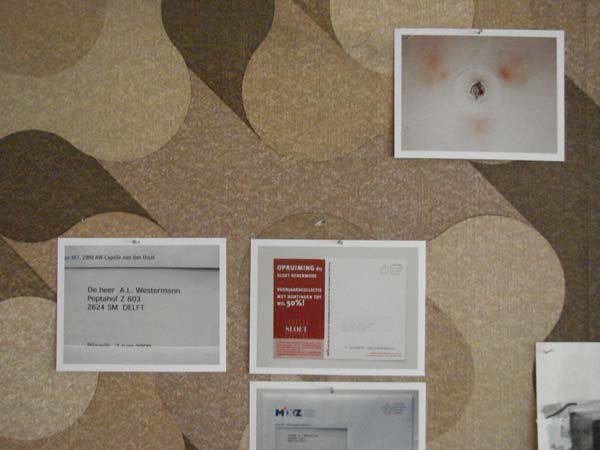 Wall paper no.1
According to the neighbour's testimonies, the wall paper was based on a picture taken by A.L. Westermann himself.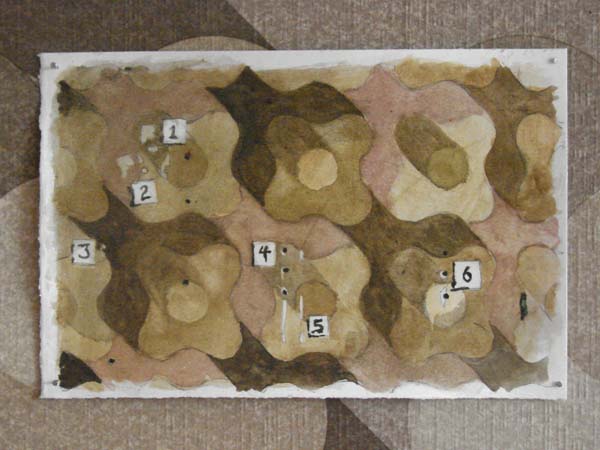 Wall paper no. 2
Numbers 1,4 and 6 show the holes in the wall created for hanging diverse objects.
Veri and Marina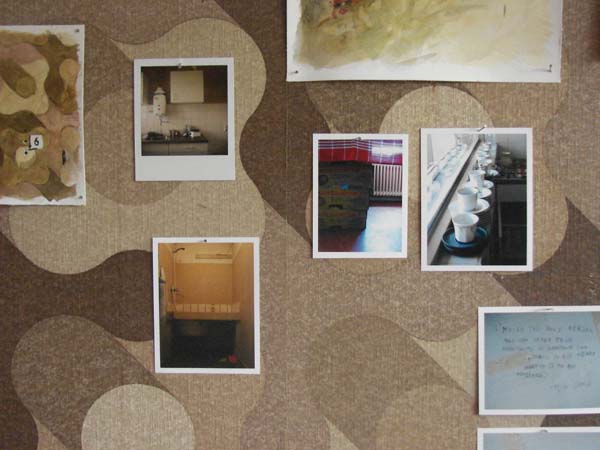 Delft donations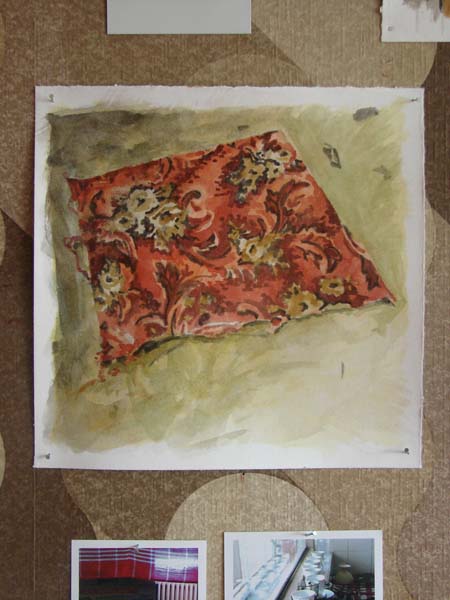 a donated carpet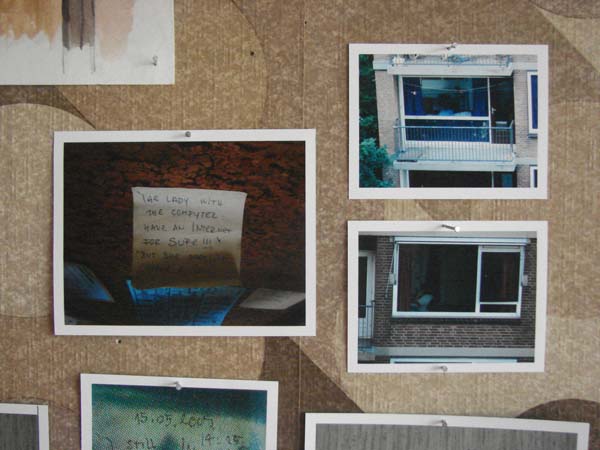 A message written in a post-it said: "The lady with the computer have an internet for sure!!! but she doesn't have a sun…"
The upper right picture is showing the working space of a probable subject. In the lower right corner another working lady with a computer and without sun.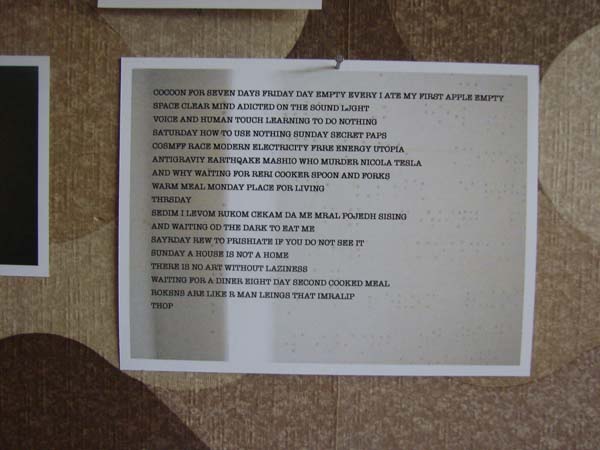 In a dark room without electricity and a lamp, a message in braille has been written in the wall by drilling holes. The message reads:
"COCOON FOR SEVEN DAYS FRIDAY DAY EMPTY EVERY I ATE MY FIRST APPLE EMPTY
SPACE CLEAR MIND ADICTED ON THE SOUND LJGHT
VOICE AND HUMAN TOUCH LEARNING TO DO NOTHING
SATURDAY HOW TO USE NOTHING SUNDAY SECRET PAPS
COSMFF RACE MODERN ELECTRICITY FRRE ENERGY UTOPIA
ANTIGRAVIY EARTHQAKE MASHIO WHO MURDER NICOLA TESLA
AND WHY WAITING FOR RERI COOKER SPOON AND FORKS
WARM MEAL MONDAY PLACE FOR LIVING
THRSDAY
SEDIM I LEVOM RUKOM CEKAM DA ME MRAL POJEDH SISING
AND WAITING OD THE DARK TO EAT ME
SAYRDAY REW TO PRISHIATE IF YOU DO NOT SEE IT
SUNDAY A HOUSE IS NOT A HOME
THERE IS NO ART WITHOUT LAZINESS
WAITING FOR A DINER EIGHT DAY SECOND COOKED MEAL
ROKSNS ARE LIKE R MAN LEINGS THAT IMRALIP
THOP"
AMANDA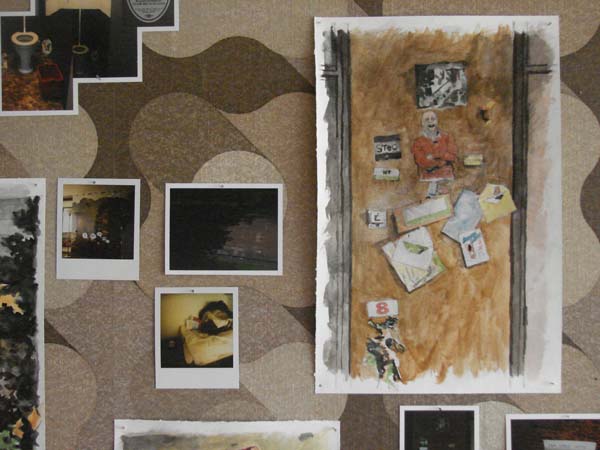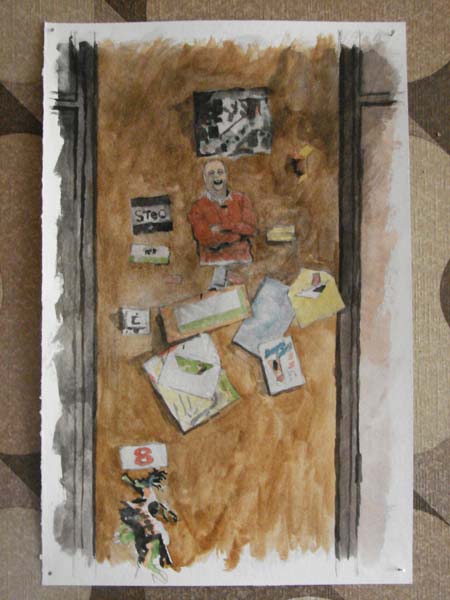 Amanda has added new cuttings to the cork wall where Marina and Veri had hang several messages.
SUZANNE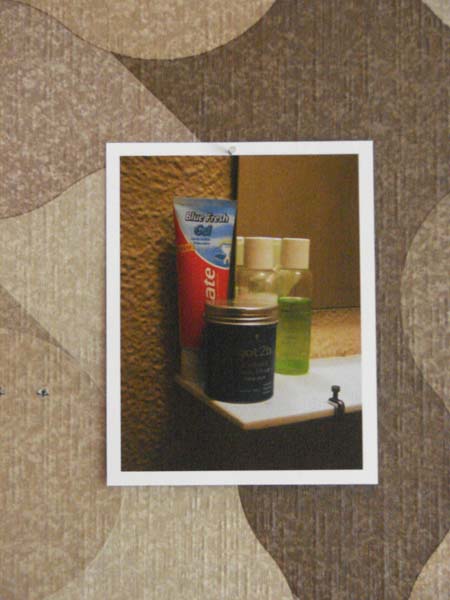 The "Hood"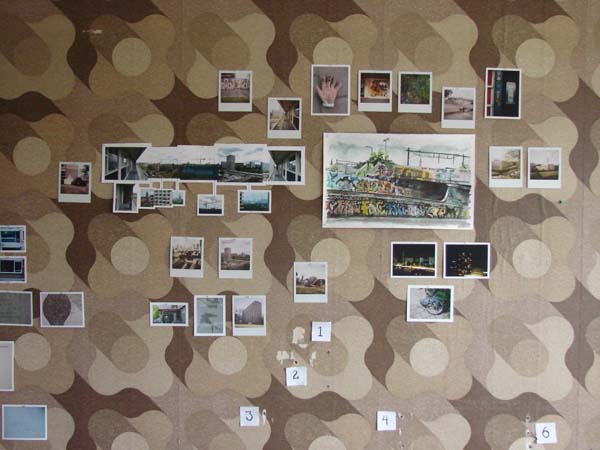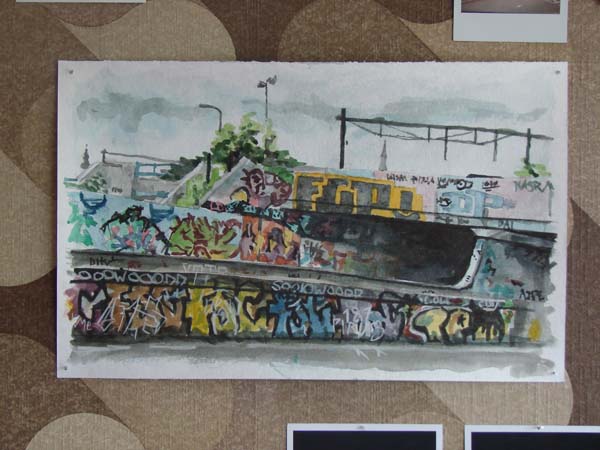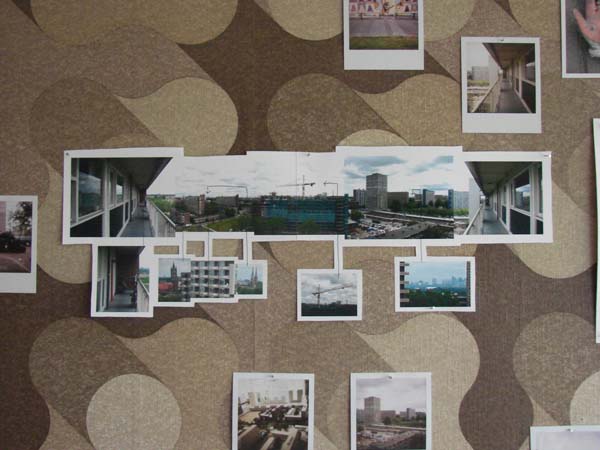 View of the "hood" (in David Hockney's style)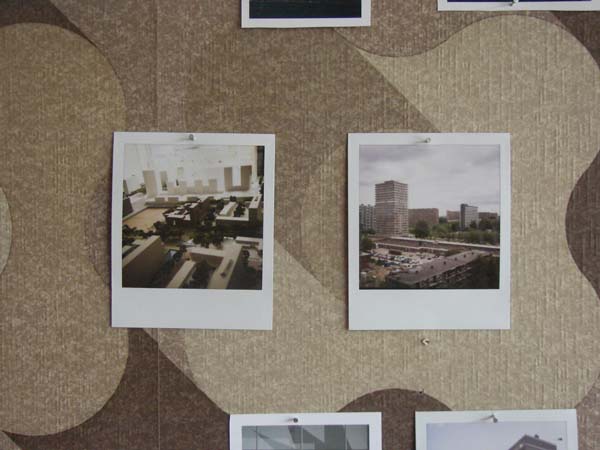 project-outcome
On the left, polaroid of a model of the neighborhood.
On the right, the view from the top floor of the building.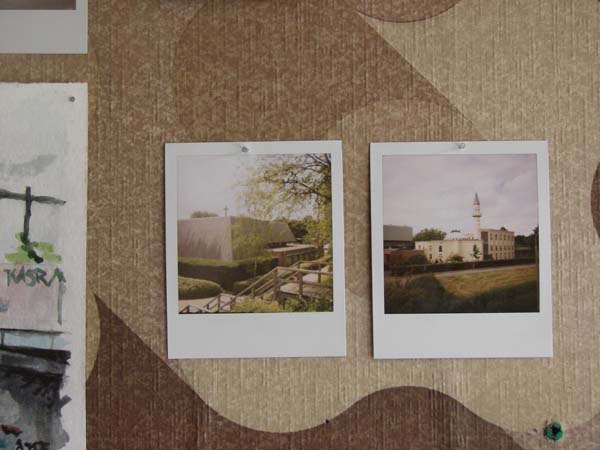 Religious centres close to the building.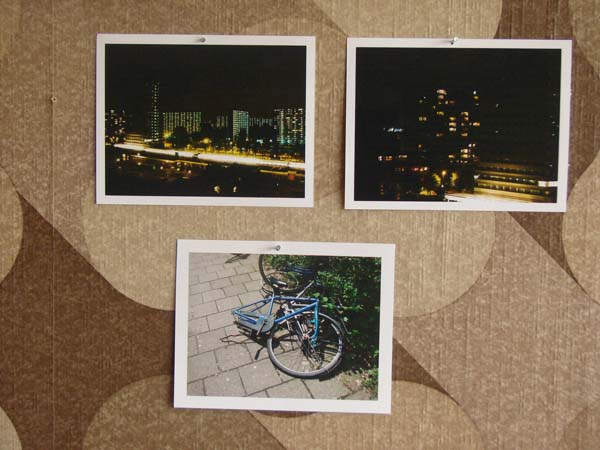 The "hood" at night