Feb 24th, 2011 by renee |

Comments Off
In February, Kristian Lukic was our guest and he kicked off the morning by sharing his past and present practices with NAPON, a collaborative group from Novi Sad. The Institute for Flexible Cultures and Technologies – NAPON, is an organization dealing with emerging forms of technology, active in the field of social and cultural practices, critical analysis of technological growth and (re)interpretation of different notions and conceptions from more recent official and unofficial media and cultural history. The activities of the NAPON organization include organization and production of various events: exhibitions and conferences, educational workshops, presentations, discussions and public forums. Some of the subjects explored by NAPON up to now range from critical analysis of the phenomenon of computer games and the social implications of game culture (the project Play Cultures, 2007-09) Kristian began his lecture by citing some early works from Jodi, and other early new media artists such as Heath Bunting, Vuk Cosic, Alexei Shulgin and Rachel Baker.
He also discussing gaming, by explaining the two streams: the players or ludologists (etymology and usage taken from Homo Ludens, by Johannes Huizinga) where the most important thing in gaming is the story. On the other hand, narratologists, being aware of the narrator coming into the picture and the role of the narrator. Examples were Molleindustria and their Mcvideogame (2006) and Leakyworld: A Playable theory (2010), one of their most recent project made in 10 days as a contribution to the Wikileaks stories project.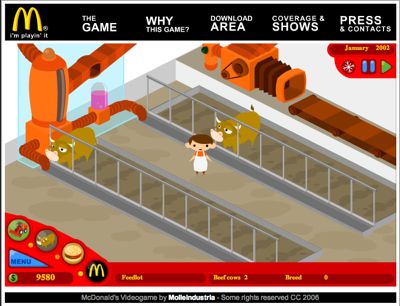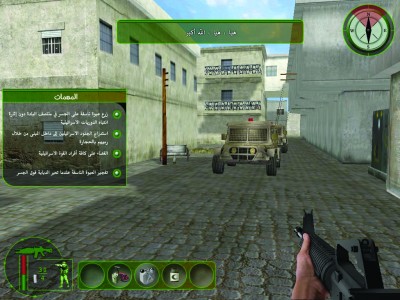 NAPON also organized the exhibition and conference Territories and Resources (2008) that pertained to fields of new economies in the context of virtual territories and resources Web 2.0, where resources here are meant to be the 'users'. Inspiration was to show where capitalism is performing, on the web. People who are online, working, the time people spend, number of people, is proportional to the value of stock value results in the financialisation of our libido, fulfilling our needs for these things, working for free. But what is the reward? We get attention, we are commenting with people but what else is exchanged? The task of capitalism is to go beyond its borders, go somewhere, expand its growth, territory.
Net art, underground movement along with the critical practice of the hacking culture were exhibited within the gallery space yet some works were exhibited in the public main square, (Trg Slobode) at CONTAINER 001: Alessandro Ludovico (Italy), Paolo Cirio (Italy) with GWEI – Google Will Eat Itself which uses Google ads, and with small hacking, redirect to websites. With that money earned they purchased Google stocks. Amazon Noir, where Alessandro Ludovico, Paolo Cirio and Ubermorgen teamed up, stole copyrighted books from Amazon by using sophisticated robot-perversion technology. Bureau D'Études, is mapping world power, their works a visualization of power and dispositifs. But truth will not set you free. You can read more in the Laboratory Planet. Aristarkh Chernyshev and Alexei Shulgin decided to make art objects because wIth media art you don't make money. So they invented a project, Electro Boutique, 
or how to create money with 'Media Art 2.0′. In 1997 Vuk Cosic, hacked the Documenta X website, copied everything and put in on his own website, leading to a whole discourse about stealing the work and website and that the artist is the best place for the speculation of capital.
NAPON'S most recent curatorial project is Wealth of Nations (2010) on Spike Island, Bristol, UK. Taking the title from Adam Smith's eponymous 1776 thesis in which he proposed that the 'invisible hand' of 'self interest' would spur economic progress. The show also explores what is money, as a religion: highest concept today, as a belief system. Some works included Kate Rich's Feral Trade project, Natalie Jermijenko and the Bureau of Inverse technologies with Despondency Index. Ola Pehrson's project NASDAQ vocal index shows the graphs of companies listed on the NASDAQ transformed into music. Computer software converts the graphs to sheets of music, and the scores are presented online on a projection screen, to be read and sung by a member of a local choir.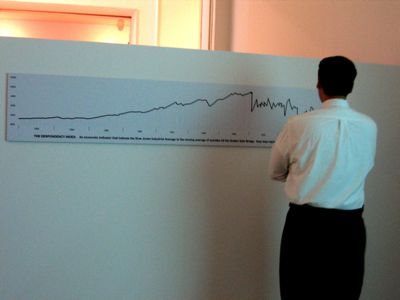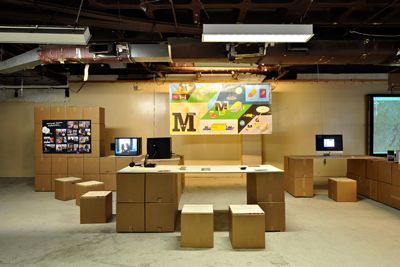 In the afternoon Kristian lectured on Superstructural Dependencies. This seminar was based on research conducted for the Impakt festival 2010 in Utrecht entitled Matrix City, curated by Stealth (Ana Džokić & Marc Neelen) and Kristian Lukić. Through the technological superstructure of cities, the fast development of mobile devices and the automation of services, the urban environment is undergoing rapid changes. With Superstructural Dependencies, a discussion is opened on the effect of a state of complete dependency on such an artificial technical (urban) superstructure – not only regarding for instance resources like food, water or energy, but as well other key activities like communication.
MATRIX CITY dealt with issues of controlling the city, how infrastructure systems and internet affect urban daily lives. Inspired partly by Dutch architect Constant New Babylon: 1950-1960 the city of play is a world city, in this sense no hard work, machines are working underground for the people. Some examples of works shown on ecology, environment, speed urbanization, car usage, carbon dioxide emissions and transport. Critcal Art Ensemble addresses gene modification. How did the island of Manhattan look 400 years ago?: Mannahatta Project is now entitled the Welikia Project. Data was gathered and used non-human inhabitants in global cities (beavers, birds, deer). Masdar City, will be the first zero-emissions city in the world is under construction. Masdar headquarters will be the world's first 0 zero carbon building.
Or what about an underground bunker in the US that becomes used for shelter of the future? Utopian worlds like The Wolf and Nanny by Cliff Evans US, 2009, 6 minutes, are contrasted by works of Zelimir Zilnik, part of Black Wave movement with his portrait on taking in the homeless in 1971 Black Film. For the more arcadian in nature Endless Forest (2006) is where you can meet the one you love using yourself as a deer, scripted with gestures. Kristian ended with a few of his own 'games' designed together with Vladan Joler, Eastwood- Real Time strategy group.