Jul 5th, 2010 by Vittoria Soddu |

Comments Off
When I was a child I grew up with the legend of my grandmother being a hairdresser and a salon trainer. This involved monthly rituals of hair cuts, which never allowed my hair to grow long enough to be tied back. When she would cut it off I used to ask her to attach it back to my head, as I lately discovered through a family anecdote.

(all photos are taken from the family archive)
During my teenage years I used the shaving of the head as a marking point for important transformations, life changes. I shaved my head in October 2003, May 2004 and February 2006, after which I decided it was time to interrupt the ceremony and be at peace with my body. I was almost 20. Four years after I was challenged with the experience of a family member being diagnosed with a disease which is likely to cause the loss of hair. My response to the news was the immediate consideration of using this material which had been growing on my head for the useful purpose of turning it into a wig.
———————————————————————————————————————————-
———————————————————————————————————————————-
Earlier this year I started a research with artist Jeroen Marttin driven by our mutual interest in the theme of the hair trade and market with particular attention to the ritual aspect of the removal and growth of hair. Please see the page Haarhandel (negotiatingequity.net/haarhandel) for more details on how the project was initiated. Jeroen had met, during his studies in Scotland, artist Ginny Baker, who is currently training to become a make-up and prosthetic artist. I was introduces to Ginny briefly one morning in a cafe in Camden Town, London. Jeroen had come to visit me and we both thought it woud be a good occasion to meet Ginny and introduce the project to her, with the intention of involving her knowledge of materials into our research.
In the mean time we were introduced to the space of Nieuwe Vide in Haarlem, where curator Emily Williams offered the Negotiating Equity group a series of evenings to curate ourselves. It seemed like a natural progression for Jeroen and I to present the research we had developed so far, and officially invite Ginny as our guest for the evening.
THE MAKING OF THE BALD CAP

A very uncomfortable feeling that of wet soapy hair stuck to your skull and attached to your neck like a piece of wood. The soap functions as a glue, turning the hair into a rigid helmet.
A five hours operation to reach the bald result. Ginny and I didn't know each other, it's quite a long time to spend with a stranger. We thought that listening to music would help break the ice and the boredom. What better song to start with than Blondie's Platinum Blonde.
"I wanna be a platinum blonde / Just like all the sexy stars / Marilyn and Jeane, Jayne, Mae and Marlene
Yeah they, they really had fun / In a luminous day-glo shade / Walk into a bar and I'll have it made
'Cause if that's all it takes; a double processed blonde / I wanna be a platinum blonde / I wanna be a platinum blonde / Be a platinum blonde
Yeah I even tried wearing a wig for a while / It was the right colour, but not the right style
Gonna get some peroxide at the beauty supply / See ya later
I wanna be a platinum blonde / Just like all the sexy stars / Marilyn and Jeane, Jayne, Mae and Marlene
Yeah they, they really had fun"

Ginny explained to me that the front is the most delicate and precise part to comb back. No lumps can show in order for it to look realistic

I also had been told that the feeling was similar to that of wearing a swimming cap. This is how I imagined to look but since there was no mirror in the room I had to use my imagination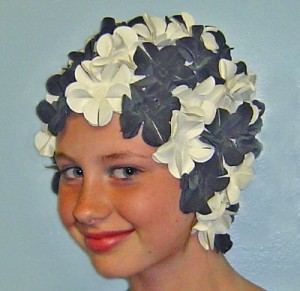 But it was a lot less playful.
———————————————————————————————————————————-
———————————————————————————————————————————-
HAARHANDEL Haarlem. 16th May 2010. 19.00.

I arrived to Haarlem in my bald head, causing occasional surprised looks on people on the train and trams on my way there. Jeroen and Ginny would sit on either side of me, which made me feel very protected from those curious eyes. I ingenuously hadn't taken into consideration the performative aspect and visual impact of the journey from Amsterdam to Haarlem, I assumed that in the Netherlands people were used to seeing baldness and wigs and fancy dress party outfits. Once inside Nieuwe Vide, I felt safe. I wasn't sure how I would have looked by the end of the evening, but I was certain that my head wouldn't be bare. Our second guest of the evening was Ieva Snikersproge, a friend who, coming to the end of her studies at Utrecht University, had the desire to mark this change with a shaving ritual. When people walked into the room the performance/hair transplant had already started. On stage were Ieva, Ginny and myself. Jeroen Marttin was taking care of welcoming our guests and leading them to where the action was taking place.

People progressively felt less intimidated by the division between the stage and the audience and stepped forward into the action. Hands on Ieva's hair and my bald head.

I felt more and more comfortable as the hair was being applied to my head. For a number of reasons, I guess. One is probably that it feels more natural to be in public with someone else's hair than with your bare head. The other is that the contact with the public, which generously interacted and accepted our proposal, made me feel like a tool, or rather like something that we were collectively contributing to making.

A communal wig, made from a collective donation of hair. The ideas of COLLECTIVE and of DONATION are the two key elements that we wished to explore through this action. I was very surprised to see how quickly people affected one another's value of 'a lock of hair'. After the initial doubt, and after the first two courageous volunteers, almost the whole of our audience offered to participate to the contribution.

all the images of the making of the cap were stills from a video documentation taken by Jeroen Marttin
all the images of the performance were stills from a video documentation taken by Eelco Wagenaar
——————————————————————————————————————————————————————————
——————————————————————————————————————————————————————————
——————————————————————————————————————————————————————————
——————————————————————————————————————————————————————————
During the performance we also screened material from our research archive. A youtube playlist including a combination of television adverts from different years and shaving rituals, from the religious purification of a Buddhist nun, to the well known Hollywood scene of soldier Demi Moore, to more amateur videos like 'when we shaved my brother's head'.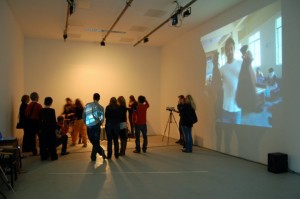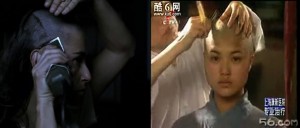 RESEARCH:   patterns in TV adverts  TIME  > MONEY >  SEX
Take one baby, one mother, her hair freshly done for a party. Some love and kisses. Some curious fingers and there goes the hair-do. Two hair-dos. But that's all right, it can be fixed. She used a good hair spray. Ozon fluid net. Hair that's been sprayed with Ozon fluid net can be fixed with a comb and a touch. And it still feels like hair. It really does
This schick styler works so fast you know what they call it? The speed styler. And look what else it has. A concentrator. For those tough to dry places. And it's fast. Three drying speeds for easier styling. And it's fast. Special brush for blow-drying. And it's fast. Plus styling mist for control. And two combs for flippy curls. Wow. Schick gives you the most to work with. And it's fast. Schick calls it the speed styler. Get one

The lady's car is compact, it's fast. And like her car the lady's hairdryer is compact and it's fast. It's the new Lady Sunbeam Jet set Hairdryer. With the self-storing hose. It's so fast that it actually dries hair in an average of 22 minutes. Most dryers move hair slowly, like this. But Lady Sunbeam extra wide diameter hose moves more hair faster. Dries quickly without uncomfortable heat. Just select one of four comfortable temperatures. Then, relax. Or if you're busy Lady Sunbeam's 12-foot cord lets you move about freely. And in just 22 minutes, you'll have gone from this to this. Lady Sunbeam also makes a salon type hairdryer, plus portable hairdryers for every budget, with prices starting under $15. Remember to ask for a hairdryer by Sunbeam
 *Recognise this?  -It's a hair conditioner  *And this?  -It's a hairspray  *Ok, what do you think this is?  -I guess it's a hairspray with a hair conditioner inside  *Aha. The first rich hairspray of brand new Hidden Magic  -Rich?  *Because it puts rich conditioners in your hair as you spray and holds better than ever  -Rich. A beautiful idea *New Hidden Magic with conditioners, the first rich hairspray  -I bet it was a woman who thought of it
 A woman should be very very soft. And so should her hair. That's why I switched to Soft and Beautiful Cream relaxer by proline. So luxurious and full of body, thanks to Soft and Beautiful. Since my beautician recommended Soft and Beautiful no lie relaxer [...] system my hair feels, mmh, so silky. So luxurious. So soft
 [Some blind date, her hair is so sticky it's like cotton candy]  *Why doesn't he like me?  -Maybe it's that cheap hairspray *You use hairspray?  -I use Respond. Even if I spray straight on  *Look out  -Respond special protein formula won't get sticky  *And it holds. I better get Respond  [Harry, my hair. Respond special protein formula is good to your hair]
*Susan  -What?   *Susan, I just went over the bills   -Oh   *We've go to tighten our bills   -I'm trying Stanley   *Try harder, uh. Do you have to use so much shampoo?   -Prell concentrate. Just this much made all this great lather   *Honey our budget's a disaster. But your hair looks like a million bucks
Now here's something new from Adorn. Adorn Soft Hold. The hairspray that says come on touch it.  *Come on touch it -Mmm   *Come on touch it -Nice   *Come on touch it -Soft   *Introducing Adorn Soft Hold. A new hairspray that holds your hair softly and leaves feeling so touchable. Like you're not wearing hairspray  [Adorn Soft Hold. The newest natural holding hairspray, from Adorn.]    *Come on touch it -I love it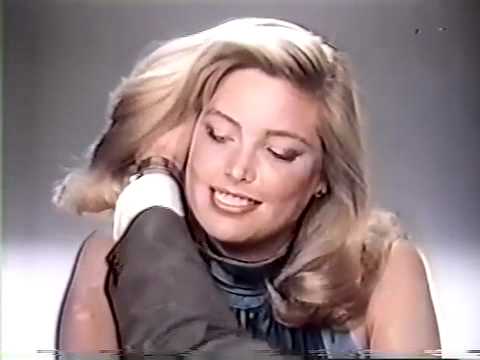 Above are some examples of videos screened at Nieuwe Vide, ordered in a progression that begins with underlying the importance of the time-saving element, the passage from the communal experience of the hair salon to the individual experience of Ladies Sunbeam compact portable hairdryer, a transition that mirrors the one between cinema and home television. The money-saving element follows in the pattern, where we see and hear words such as 'Rich' and 'Luxurious' used to define hair treated with a certain product (Hidden Magic / Soft and Beautiful) as oppose to 'cheap hairspray' which is identified as main cause for the failure of a date between a young couple. Finally the suggestive sexual element in the 1980s Adorn hair spray, which anticipates much of a visual language used in contemporary television adverts.
——————————————————————————————————————————————————————————
——————————————————————————————————————————————————————————
THE BALD AND THE BEAUTIFUL
This video is a collage of the different elements that formed the research for the Haarhandel project. It includes examples of television adverts, excerpts from the film "Hair India" by Marco Leopardi and Raffaele Brunetti, which was screened at Nieuwe Vide in Haarlem on the 16th of May 2010. The video also includes documentation from the performance of the hair transplant together with recording of the discussion which took place after the screening.