Apr 10th, 2010 by renee |

Comments Off
This month we were fortunate to have Brett Bloom from Temporary Services (Brett Bloom, Salem Collo-Julin, Marc Fischer) who conducted studio visits on Thursday. About Temporary Services: 'We are based in Illinois, U.S.A. and have existed, with several changes in membership and structure, since 1998. We produce exhibitions, events, projects, and publications. The distinction between art practice and other creative human endeavors is irrelevant to us. The best way of testing our ideas has been to do them without waiting for permission or invitation. We invent infrastructure or borrow it when necessary. We were not taught this in school. We try different approaches, inspired by others equally frustrated by the systems they inherited, who created their own methods for getting work into the public. Temporary Services seeks to create and participate in ethical relationships that are not competitive and are mutually beneficial. We develop strategies for harnessing the ideas and energies of people who may have never participated in an art project before, or who may feel excluded from the art community. We mobilize the generosity of many people to produce projects on a scale that none of us could achieve in isolation. We strive towards aesthetic experiences built upon trust and unlimited experimentation.'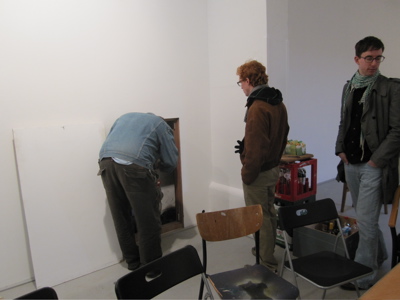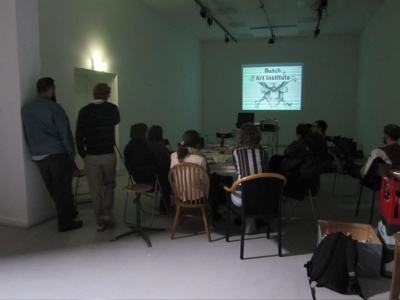 On Friday we kicked off our collaboration within the multidisciplinary project The Object Lag at Nieuwe Vide in Haarlem where DAI participants have been invited to make presentations from May until July in the The Outlet Inn, which opens every Sunday afternoon from 14:00 -17:00. The Outlet Inn offers a window for visitors and participants to interact on a more informal setting, each Sunday the program will be hosted by a different participant of The Object Lag. On Friday morning DAI alumna Emily Williams and curator of Nieuwe Vide for 2010 introduced The Object Lag as an extension of her art practice. The Object Lag is an open self-evolving structure conceived to counter the ever-present tendency to focus primarily on the material presence of the (art) object. The Object Lag instead seeks to place the emphasis on the often invisible and intangible interrelated contexts that orbit around the object. Seeing the object and its experience, as something that is constantly in movement and so open to an infinite amount of possibilities and readings, The Object Lag transforms the common curatorial practice of organizing and arranging into the very material itself, open to the interventions of the artist and visitor alike. Over the year, The Object Lag will take place in five parts (Hubs). Each hub consists of a two-month collaborative working period and are entitled: Form & Content, Translation, The Archaeology of Autonomy, Cross-Reference, and The Intangible.
Friday afternoon we screened Negotiating Equity's showreel edited by Frederik Gruyaert and recently broadcast at Be at the Media on Salto1, then from 14:00-17:00 was the Art Work public workshop.
Brett showed us selected publications from Half Letter Press and discuss their conception, making and distribution. We first discussed Art Work: A National Conversation About Art, Labor, and Economics, a newspaper exhibition, and website organized by Temporary Services. The paper culls together writings from artists, curators, critics and theorists, from across the United States and Puerto Rico. Contributors were asked to reflect on a range of topics: the country's (USA) economic situation, how conditions are in their locations, what they are willing to fight to change, and more. Included are historic examples of artists' projects, initiatives and other efforts to find money for their work or to create broader infrastructural support for others.
DAI participants were asked to bring along images and texts they wish to contribute in making a newspaper modelled on Art Work. At the end of the afternoon we all worked together on making a 'dummy' that is directed to the local economic situation for artists.
Please see the website for participants projects and presentations of The Object Lag.