Jun 6th, 2012 by Ingeborg Entrop |

Comments Off
While I was in Senegal, I had the opportunity to talk to the Senegalese actor Atone Niane in the Netherlands. From him, I learned that the naming of Gorée after Goeree or 'goede rede' is actually not the only trace of Dutch history in Senegal. In his mother language, Wolof, there are words that are derived from the Dutch words 'lekker', 'poepen' and 'wandelen' (in English: delicious, to defecate and to walk).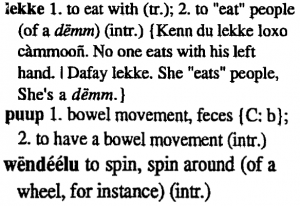 From  'Ay Baati Wolof. A Wolof Dictionary' by P. Munro, D. Gaye, 1997
These words were all that was needed for communication with a slave.